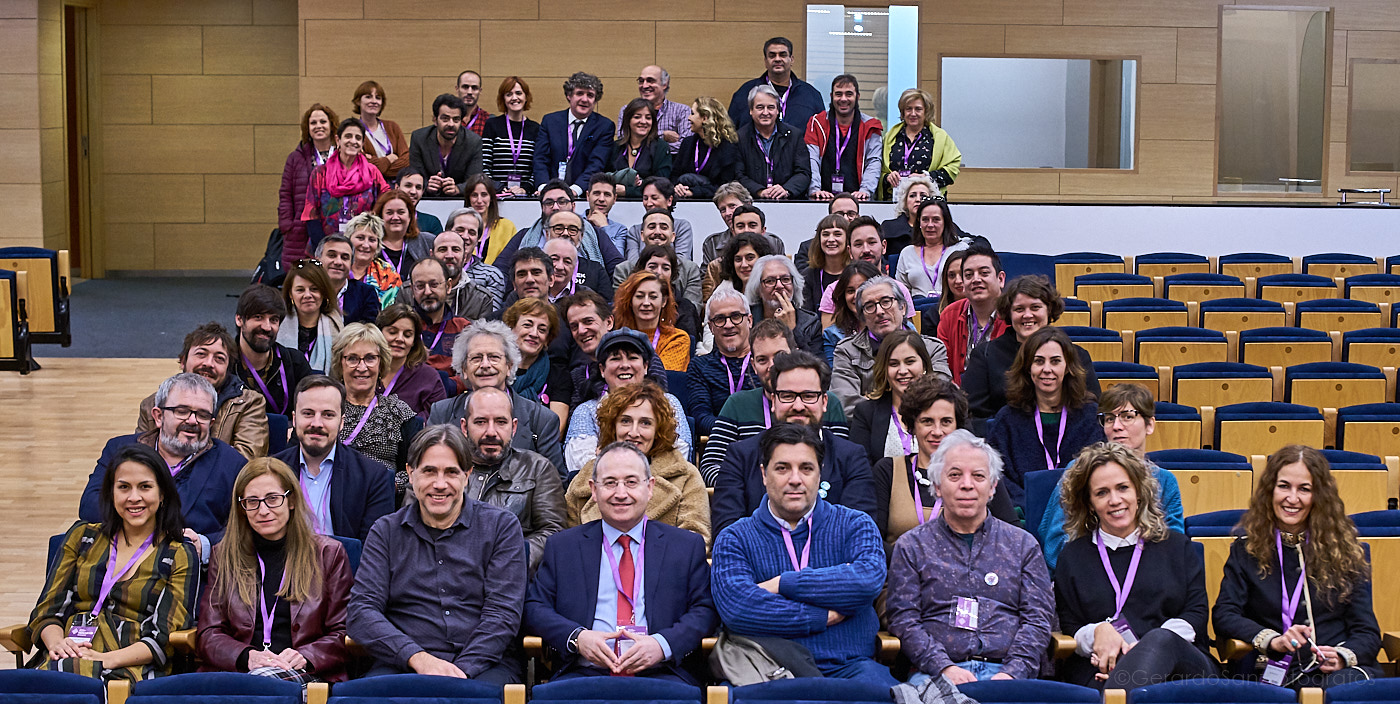 FEDERATION OF ASSOCIATIONS OF PERFORMING ARTS COMPANIES (FAETEDA)
FAETEDA (Federation of Associations of Performing Arts Companies) was created in 1996 with the purpose of boosting the industrialization, modernization, development and structuring of the Spanish theatre industry. It is a member of the Performing Arts Employers Associations League Europe (Pearle*), which represents more than 10.000 live performance organizations in Europe.
FAETEDA is formed by 15 associations which represents more than 300 private companies and theaters from Aragon (ARES), Asturias (EscenAsturias), Basque Country (ESKENA), Cantabria (ACEPAE), Castile and Leon (ATESACYL), Castilla-La Mancha (ESCENOCAM), Catalonia (ADETCA and CIATRE), Community of Madrid (APTEM and ARTEMAD), Galicia (ESCENA GALEGA), Region of Murcia (MURCIA A ESCENA), Valencian Community (AVETID), Navarre (ESNA) and Rioja (AESCENA).
WHAT IS FAETEDA?
Throughout its 20 years of history, FAETEDA has had three presidents: Toni Benavent (1996-2005), Daniel Martínez (2005-2014) and Jesús Cimarro, currently leading the organization. Three key persons to understand contemporary Spanish theatre, who have moved from defending their community interests to working for the benefit of the whole performing arts sector in Spain.
FAETEDA is involved in improving the relationships and information exchange between its different associations, creating a necessary synergy among the industry professionals of the different autonomous communities. It was established as the only spokesperson towards administrative and professional state organisms and has become the stepping stone for public institutions towards the private theatre sector as a cultural good of primary importance in society. As the representative of the private sector in Spain, FAETEDA is in constant dialogue with de Ministry of Culture and different performing arts organizations, both national and international.
In these two decades of hard work, FAETEDA has accomplished many victories and has promoted a large number of projects: the creation of Chivatos; the creation and organization of Mercartes; the active participation in Pearle* (Performing Arts Employers Associations League Europe); the boost for the creation of the Aids for the Performing Arts in Latin America (Iberescena); the membership in the State Council of the Performing Arts and Music and the participation in Platea's Mentoring Committee.
One of our latest achievements, after five years of negotiations, was the recovery of the reduced rate (from 21% to 10%) of the VAT for performing arts, live music events and cinema, which took place in 2017 and 2018, respectively. FAETEDA, as the spokesperson of the Spanish Union of Cultural Industries Associations, will continue working to accomplish the reduction of the VAT rate that taxes the fees companies charge to public theaters and venues (also from 21% to 10%).
OUR PROJECTS
It is a data-base that collects weekly all the information of the shows performing at public and private theaters in Spain. This program provides essential data to the sector, in order to improve their efficiency and give them tools to identify its main issues.
Currently we have 70 theaters associated and we are in negotiations with the Ministry of Culture and SGAE (General Society of Authors and Publishers), to contribute to the participation of theaters from all Spain.
This performing arts market was created in 2004 in Seville and take place every two years. Its main objective is to promote the relationships between professionals of the sector and to generate business opportunities. It was established as one of the most important performing arts market in Spain. Its last edition (November 7 to 9, 2018) was celebrated in Valladolid and gathered more than 1.000 professionals of the sector.
It is organized by FAETEDA and LA RED (Spanish Network of Public Theaters, Auditorums, Circuits and Festivals). It is also possible thanks to the collaboration of public and private organizations such as Ministry of Culture, Council of Castile and Leon, Council of Valladolid, AC/e (Spanish Cultural Action), FECED (Federation of Dance Companies), COFAE (Coordinator of Performing Arts Markets), ADGAE (Association of Performing Arts Distributors), FEAGC (Federation of Associations of Cultural Managers).
WE ARE MEMBERS OF:
Pearle* is the European Federation which represents, through its members and associations, more than 10.000 live performance organizations in Europe. FAETEDA is a member of Pearle* since 1997 and is currently part of its Executive Committee.
In 1998, Pearle* was recognized by the European Commission as the European employers association to represent management side at the European level. Pearle* meets the workers represented by EAEA (European Arts and Entertainment Alliance) at the European Sectoral Social Dialogue meetings for the live performance sector. The current work programme includes items such as: social dialogue, health and safety, mobility, training and education, the economic situation of the sector, diversity and gender equality and any other EU initiatives which impact the sector.
Pearle* is also committed to supporting capacities of employers and employers associations across Europe to create a sustainable environment for the live performance in Europe. Finally, Pearle* takes part in the EEN (European Employers' Network) facilitated by Businesseurope and is registered